From the beginner to the professional, I hope my other site will give you tips and tricks of using polymer clay; it is a great hobby.
This second version has navigation buttons.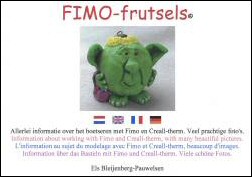 First version of above mentioned site. It's lay-out is uncomplicated and quicker when using an ordinary telephone line.

Polystyrene sites
Please inform me if you know any interesting polystyrene sites. You will find my e-mail address at the bottom of this page.
Creative websites
Websites, others
Manufacturers

Thank you for your visit, please come back some time. These pages will be updated and checked regularly.

For ceramic animals please have a look at: www.uniekkeramiek.nl