This website is built bilingual using Namo WebEditor 5.5. It is a very good Korean program.
The pictures are made with a Sony-videocamera, type TRV-20 and a digital camera of Nytech. The pictures are resized and cropped using MGI Photosuite.
The site is built for 800 x 600 screens. I am using 1024 x 768 on my 19 inch analog monitor and the site is working perfectly.
My websites are on the providers FreeOnline and Uwnet and on my own domain (www.hobbysite.info).
This site is written for ADSL and cable; however it can also be viewed by ordinary, analog lines.
For this site I received 3 golden awards.
* SiteRecensie checked it 6 December 2003.
They liked it and thought it very interesting. Golden Award 2598.

* Webkeuring.be concluded 17 December 2003: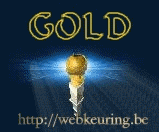 "You are a fine webmaster. Your site has been checked following the rules on: design, html, publicity, loading, broken links and pictures and surfing".
* Tweety's drawings site concluded 16 February 2005:
Design: The site looks very good (9/10)
Download: Good (8/10)
Navigation: Very clear and pleasing to look at (9/10)
Originality: Great idea (10/10)
Conclusion: Very pleasant and interesting site, good ideas, lots of information (9).